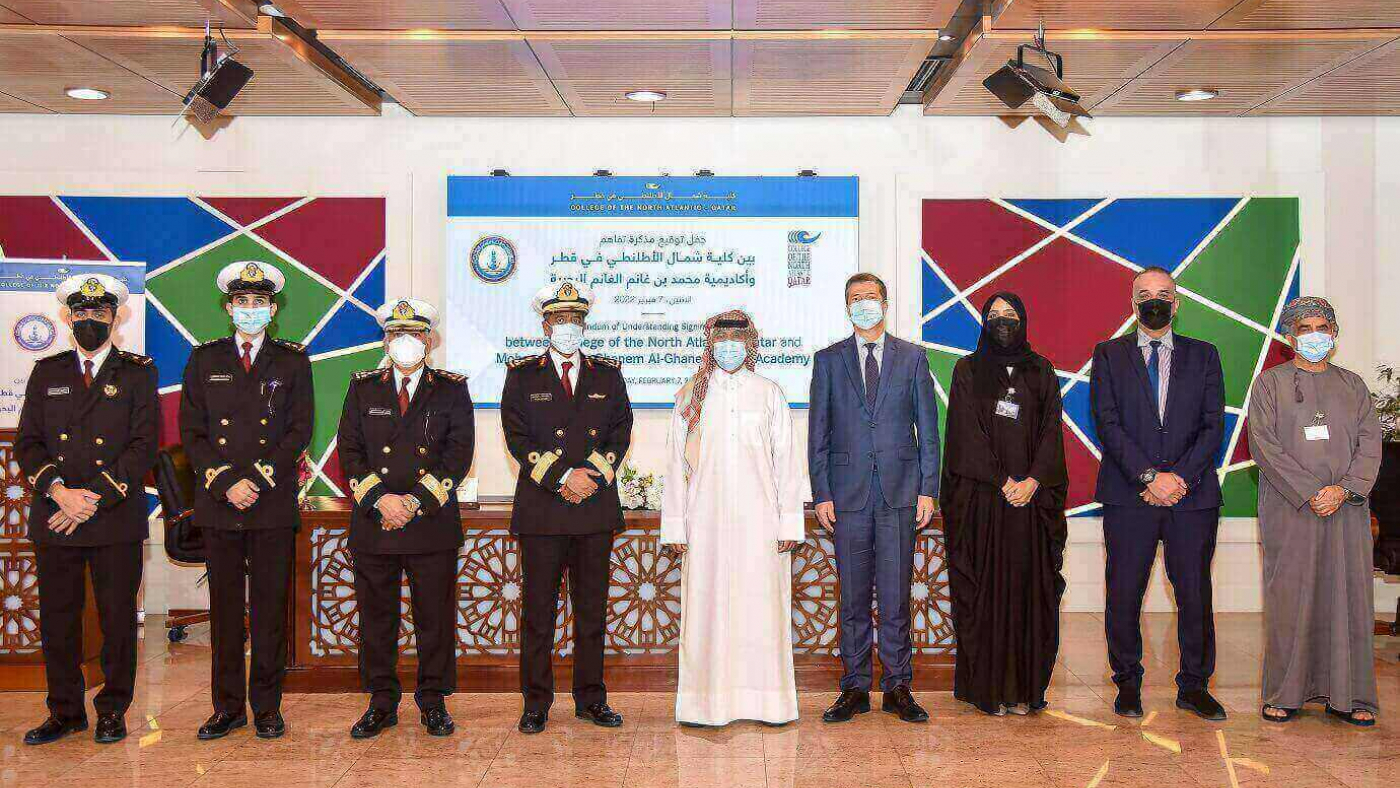 A strong commitment to research and development
University of Doha for Science and Technology (UDST) has signed a memorandum of understanding with Mohammed Bin Ghanem Al- Ghanem Maritime Academy to enhance cooperation in the fields of education, training, research and development. The agreement was signed by UDST's President Dr. Salem Al-Naemi and Commander of Mohammed Bin Ghanem Al Ghanem Maritime Academy Brigadier General Khalid Nasser Al Hajri, in the presence of a number of College officials and a delegation from the Academy.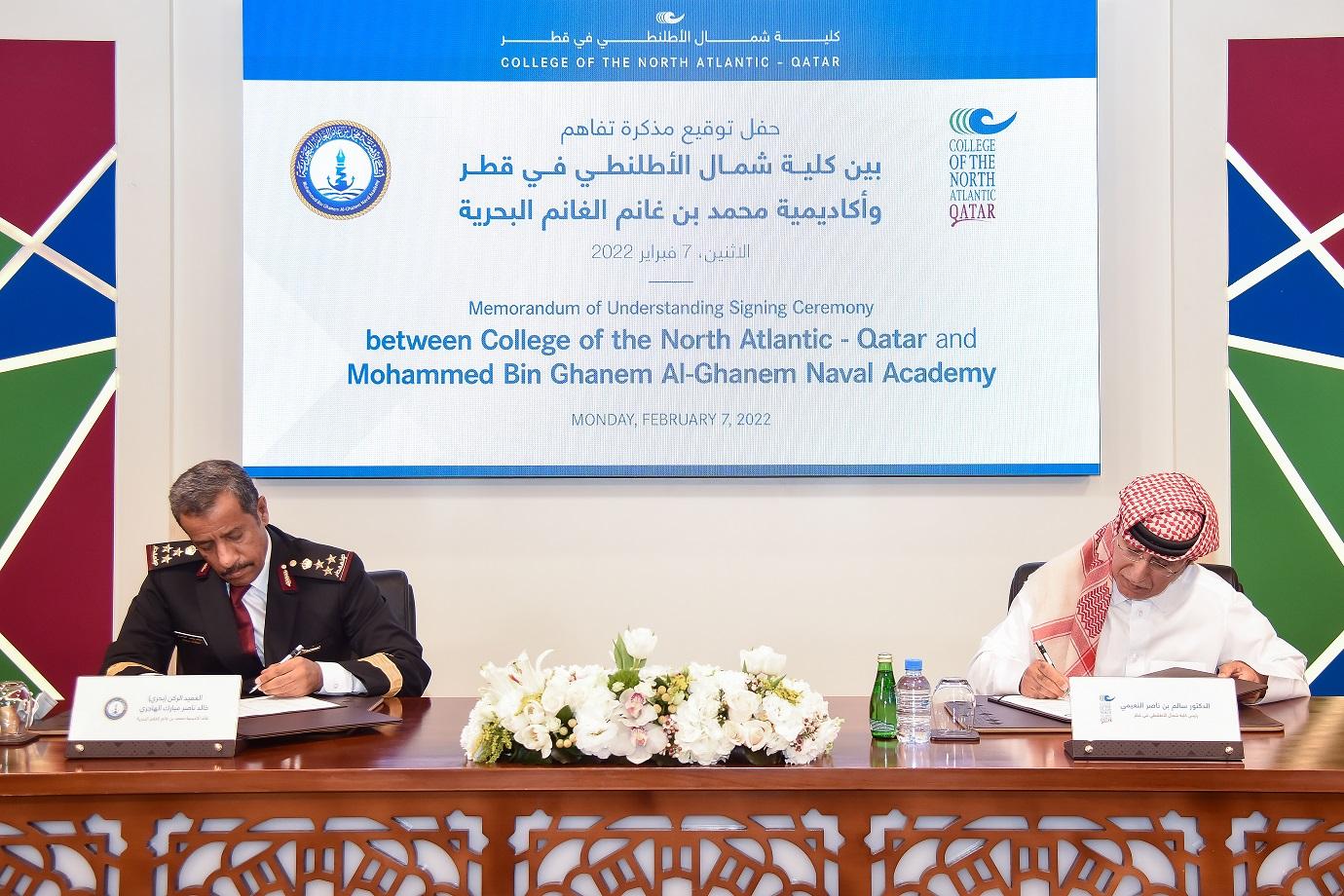 The MoU serves as a common platform to initiate actions that will leverage the performance of both entities and develop initiatives related to science, administration, technical programs and research. The agreement brings forward the importance of expertise exchange and the necessity to create a hub where stakeholders can connect and share knowledge including publications, periodicals, research, statistics and data. Both signatories will organize joint conferences, workshops and trainings in addition to many activities of common interest. 
On this occasion, Dr. Salem Al-Naemi said: "We are pleased to partner with a reputable National Institution such as Mohammed Bin Ghanem Al Ghanem Maritime Academy. This agreement reflects our College's commitment to effectively expand our community engagement, participate in common projects and implement new ideas that will have a great impact on our nation." He added: "UDST enjoys a dedicated world-renowned faculty and a technically advanced environment with many technology-rich classrooms, workshops, laboratories, and simulated spaces that will support this military academy and its students. Our College's culture fosters a love of learning and experimenting which enables our partners and us to learn from each other, explore, improve and innovate. We are confident that this MoU will result in a positive outcome for all parties." 
In his speech on the occasion, Brigadier General Khalid Nasser Al Hajri said: "UDST has long been known for its outstanding applied education and its role in graduating thousands of talents who are contributing to national development. This agreement is a step forward in encouraging institutional exchange of STEM information and promoting knowledge. The Academy aims to offer its students the best possible tools to develop not only at a military level but also academically and intellectually. We look forward to achieving amazing outcomes."
With more than 20 years of experience in Qatar, UDST offers high-quality programs led by qualified instructors. The College has transformed the education and work landscape of Qatar, distinguishing itself as a destination in the state for Technical and Vocational Education and Training (TVET), and a source of top-notch talent.
-ENDS-
About College of the North Atlantic -Qatar
UDST is a national technical college, that has officially opened in September 2002. It is recognized as a Center for Excellence in technical and vocational education and training in the State of Qatar. UDST provides certificates, diplomas, applied degrees and master's programs in various fields, and is recognized for its student-centered learning and state-of-the-art training facilities. The College offers interactive academic and co-curricular programming for thousands of full-time students enrolled in over 50 programs in the fields of Engineering Technology and Industrial Trades, Business Management and Information Technology, Health Sciences and more. UDST fills the State's need for graduates who have hands-on training in their field of study. Since its opening the College graduated thousands of alumni who are proudly contributing to a knowledge-based economy and making the Qatar National Vision 2030 a reality.
For more details contact:
Gisele Achkar, Communications Specialist
Marketing & Public Relations
Tel: +974 4495 2558
E: gisele.achkar@cna-qatar.edu.qa