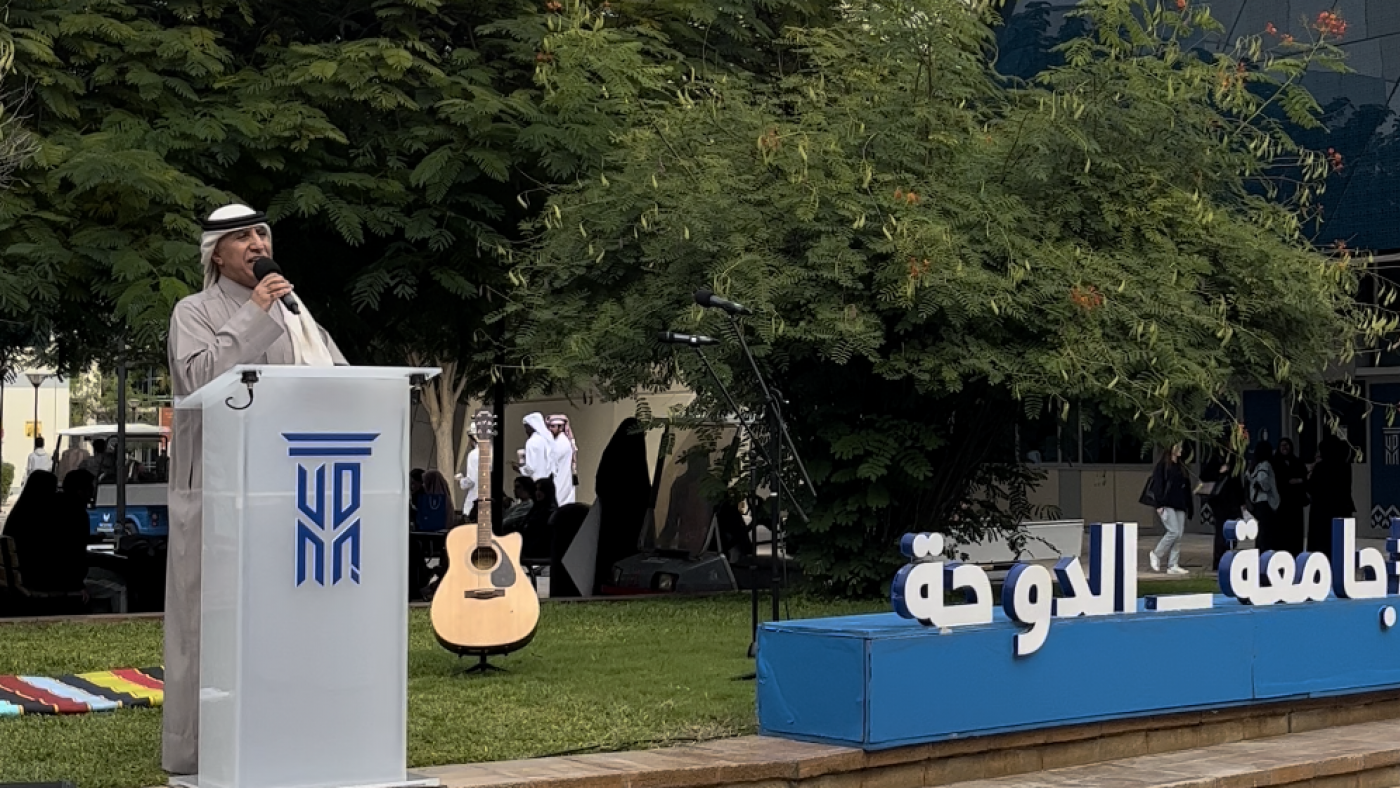 UDST concludes AHLAN week

University of Doha for Science and Technology welcomed back close to 6400 students to campus for the Winter semester. New and returning students have joined 5 Colleges that are offering more than 60 programs in the fields of Business Management, Computing and Information Technology, Engineering Technology, Health Sciences and General Education.
The University organized an Ahlan Welcome Week event, a full week of activities to celebrate the beginning of the new semester. The Student Engagement Department, a division of Student Affairs held orientation sessions for the new joiners prior to the first day of classes. New students were introduced to the many advanced laboratory and simulation facilities that the campus boasts, and were able to meet highly skilled faculty and staff who will be supporting them through their study journey.
Furthermore, students had the opportunity to engage in different festivities including a food truck festival, semester goal setting exercises, meet and greets, open mic and movie night, ending with the popular "Club Fest", an occasion to encourage students' involvement in extra-curricular activities. Students at UDST can start their own club or join an existing one. The clubs' list is extensive and reflects the University's commitment in creating extra-curricular activities that meet the aspirations of the students and their interests. The list includes the following:  Photography Club, Music Club, Volunteer Club, Art Club, Debate Club, Deen Club (Religion),Toastmasters Club, Four Paws Club (animal welfare), Theater Club, Environment Club, Book Club, Best Buddies Club, Qatar Student Association, Filmmakers Club, Fan Club and the Cooking Club. Other Student Affairs departments – Sport and Wellness and the Library – also participated, providing additional opportunities for students to be involved in.
Addressing the students during his welcome speech, Dr. Salem Al-Naemi, President of UDST said: "We are starting a new year, a new semester and a new chapter for our beloved Nation.
After hosting a phenomenal World Cup tournament, Qatar has proved to the World that with ambition, dedication, and perseverance anything is possible. And that's a lesson I want you to remember. You will face many challenges in your course of study, in your career, and in life. These challenges can be overcome if you truly believe in yourself and your capabilities."
He added: "UDST's core values of performance, excellence, and achievement are the foundation of our commitment towards our students and our nation. Our aim is to help our community self-develop and seek innovation that serves society and achieves sustainability under the Qatar National Vision 2030."
Ahlan Welcome Week is an event that creates more interaction between students and contributes to their personal and professional growth.  
Furthermore, At UDST both Qatari citizens and children of Qatari women are exempt from the payment of tuition fees for Bachelor's degree and diploma programs.The University offers applied Bachelor's and Master's degree programs in addition to diplomas and certificates. All programs are tailored to achieve human, social and economic development goals nationally and internationally.