All eligible applicants to The University of Doha for Science and Technology must write both an English and Math Test to determine their placement at the College. The Academic English Placement (AEP) and Academic Math Placement (AMP) Tests are placement tools administered to all new students enrolled in a diploma or certificate program in order to provide information about their academic skills in English and mathematics. 
About the TC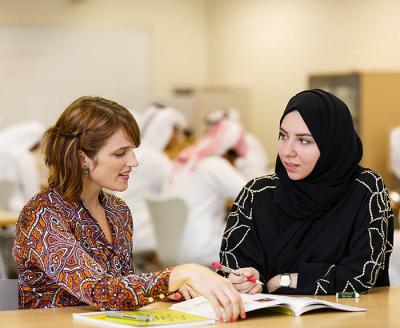 In January 2007, the University of Doha (UDST) established the UDST Testing Centre. 
 The Testing Centre was designed to address the testing needs of UDST in the areas of entrance, placement, and exit testing for its regular programs, as well as for Corporate Services.  It also serves the larger community as an approved center for the administration of the International English Language Testing System (IELTS) test, in addition to providing proctoring services for institutions outside Qatar.  
The Testing Centre is located on the second floor of the Administration Building (Building 3).  There are five test rooms, three of which have computer labs, eight oral interview rooms, administrative offices, a reception and two waiting areas for clients. 
All assessments delivered through the TC are secure exams.  This means there are strict guidelines and procedures in place to protect the security and integrity of tests and to ensure all candidates receive fair and equal treatment.  For the standards and practices the Testing Centre strives to attain, please see Principles of Good Practice for ALTE Examinations at www.alte.org.  
Proctoring Details
The Testing Centre provides professional and secure proctoring services to those individuals studying at educational institutions outside Qatar and are required to take exams while in Doha.  
Regular proctoring services can start at 8:30 a.m., with all testing to be completed by 3:00 p.m.  Written requests for all proctoring services must be made a minimum of 10 working days in advance. Alternative dates for proctoring services may be available, if scheduling permits.    
Unless the institute has a long standing billing agreement set up with UDST, a proctoring fee of 200 QR per test is required to be paid on the scheduled test day by the candidate.  Courier costs may also apply. If a candidate wishes to reschedule his exam, in 2 or less working days without a valid medical note or police report, an additional fee will be applied. Proctoring services are provided free to UDST employees and students.  
Candidates should arrive 30 minutes before an exam start time.  Please confirm with your exam provider materials that are allowed in the exam room.
Academic ENGLISH Placement
The Academic English Placement (AEP) tool is an online adaptive test designed to assess an applicant's English language ability. The test results are used to place students in classes at UDST. Applicants requiring additional language support depending on eligibility and availability may be eligible to take English language classes at UDST to ensure future success in their program of study.
Please click here to see a sample AEP
Frequently Asked Questions:
Academic MATH placement
Frequently Asked Questions:
When applying to the college at the Registrar's Office, you will be directed to the Testing Centre for a test date.  Your test results will usually be available 5 - 10 days after the test and will be sent to your email address
Amenities include:
Friendly and knowledgeable registration staff
Male and female waiting room
Classrooms and labs that meet international testing standards
Private oral testing rooms
Modern testing software

We are also an official testing site for the International English Language Testing System (IELTS) Test. These tests are open to the broader community as well as UDST students.