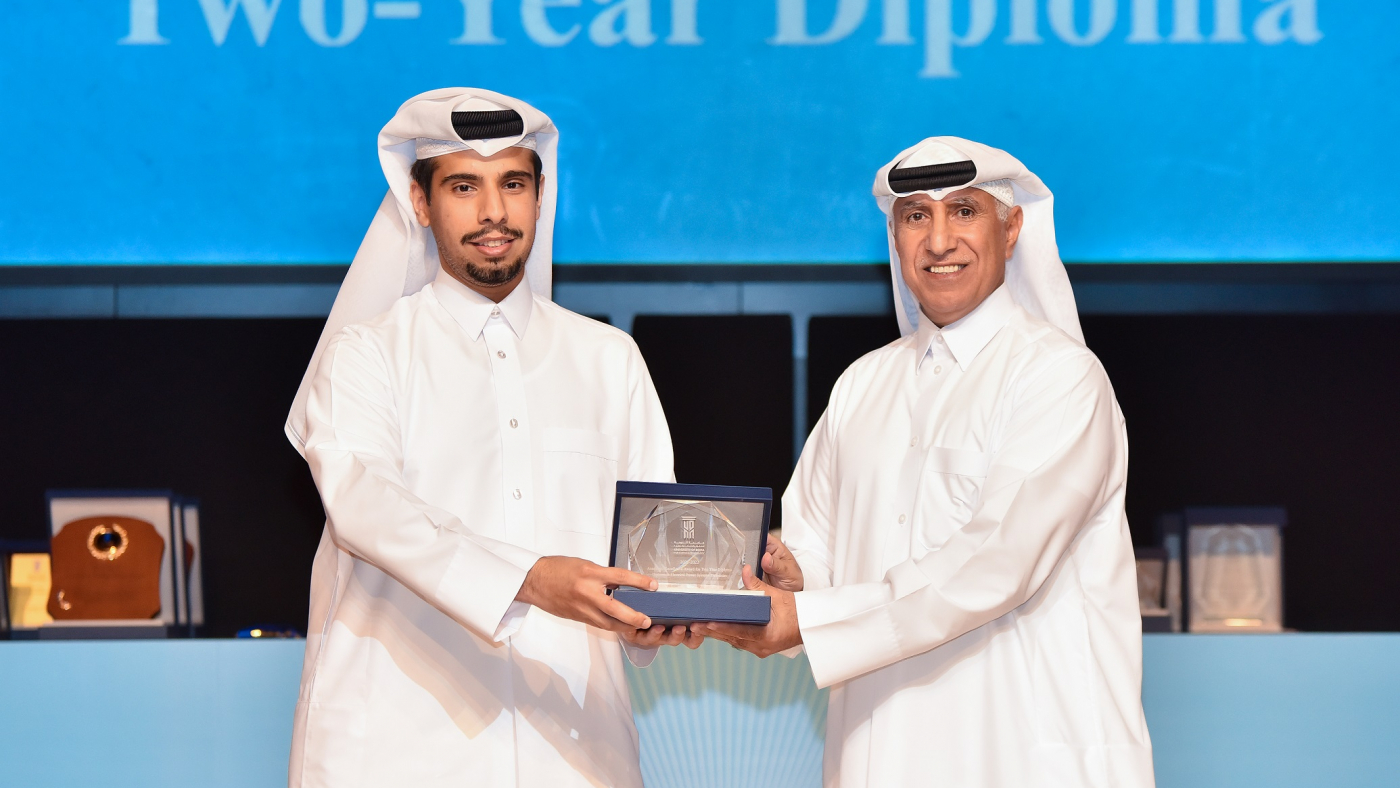 University of Doha for Science and Technology rewards its top-performing students during the annual Academic Awards Ceremony
A total of 48 of the very best and the brightest University of Doha for Science and Technology's (UDST) students were celebrated for their 2021-2022 academic achievements, during an official ceremony at the University.
Students are recognized based on 7 categories: Academic Excellence Award, Applied Research Award, Innovation Award, Academic Merit Award, Academic Distinction Award, Industrial Trades Dean Award and Foundation Program Award.
The Academic Excellence Award is presented to UDST's Highest Academic Achievers. They are awarded to students with the highest weighted average for the last academic year. The award was presented to: Hessa Sultan AlSuwaidi, a student in the Master of Science in Human Resource Management program; Benedict Benito Canillo a student in the Bachelor of Science in Occupational Health, Safety, and Environment, Nihala Moosa Panangat a student in the Bachelor of Science in Pharmacy Technology program, Abdulaziz Khaled a student in the Advanced Diploma in Chemical and Processing Engineering Technology program and Mohammed Alkuwari a student in the diploma in Electrical Power Systems Technician program.
UDST is dedicated to advancing applied research, facilitating innovation, developing entrepreneurship and supporting the exploration of emerging technologies. This year the University added two new categories to the Academic Awards list: Applied Research Award and Innovation Award. The Applied Research Award recognizes the outstanding achievement of one student in applying research principles to solve real-world problems and was presented to Abdulla Mohammed Ansari from the College of Health Sciences. He is a student researcher, who has been actively involved in the EARLY SEED grant and has been instrumental in spearheading the research project. He has demonstrated exceptional ability regarding research data collection and validation of research methodologies. He has presented and communicated his research at the National level during the June 2022 IOSH QATAR meeting and will take his research to the International level at the December 2022 AGU meeting in the USA.
The Innovation Award aims to reward a student whose innovation and inventiveness have had a significant impact on the community, and was presented to Shahad Amer Al-Ogaidi from the College of Engineering Technology. She is a student with the ability to independently engage in original research and innovation. Her project: "Innovative Analyzers Based on Galvanic Cells" was one of the best four projects among all universities in the Gulf region, and it was submitted to the GPCA innovation competition. The new research methodology and precise measurements in her project resulted in the discovery of galvanic sensors which could lead to the development of innovative commercial chemical analyzers.
Dr. Salem Al-Naemi, President of UDST congratulated the students on their achievements and said: "This outstanding outcome reflects the high level of education at the University. Recognition is an important part of education; It encourages healthy competition among students and celebrates the efforts put in by top performers to reach the highest ranks."
He added: "The celebration tonight is not just about recognizing your achievements, it is also about inspiring others. You are now academic ambassadors and your peers look up to you.  Make sure to show everyone what UDST is all about and what you are capable of achieving in an inclusive and empowering environment. I am confident that you will have a successful future ahead of you and you will lead Qatar towards achieving its National Vision 2030."
The recipients of the Academic Excellence Award and Academic Merit Award are offered scholarships, and all winners receive a University certificate and the Distinction is noted on their official transcript.