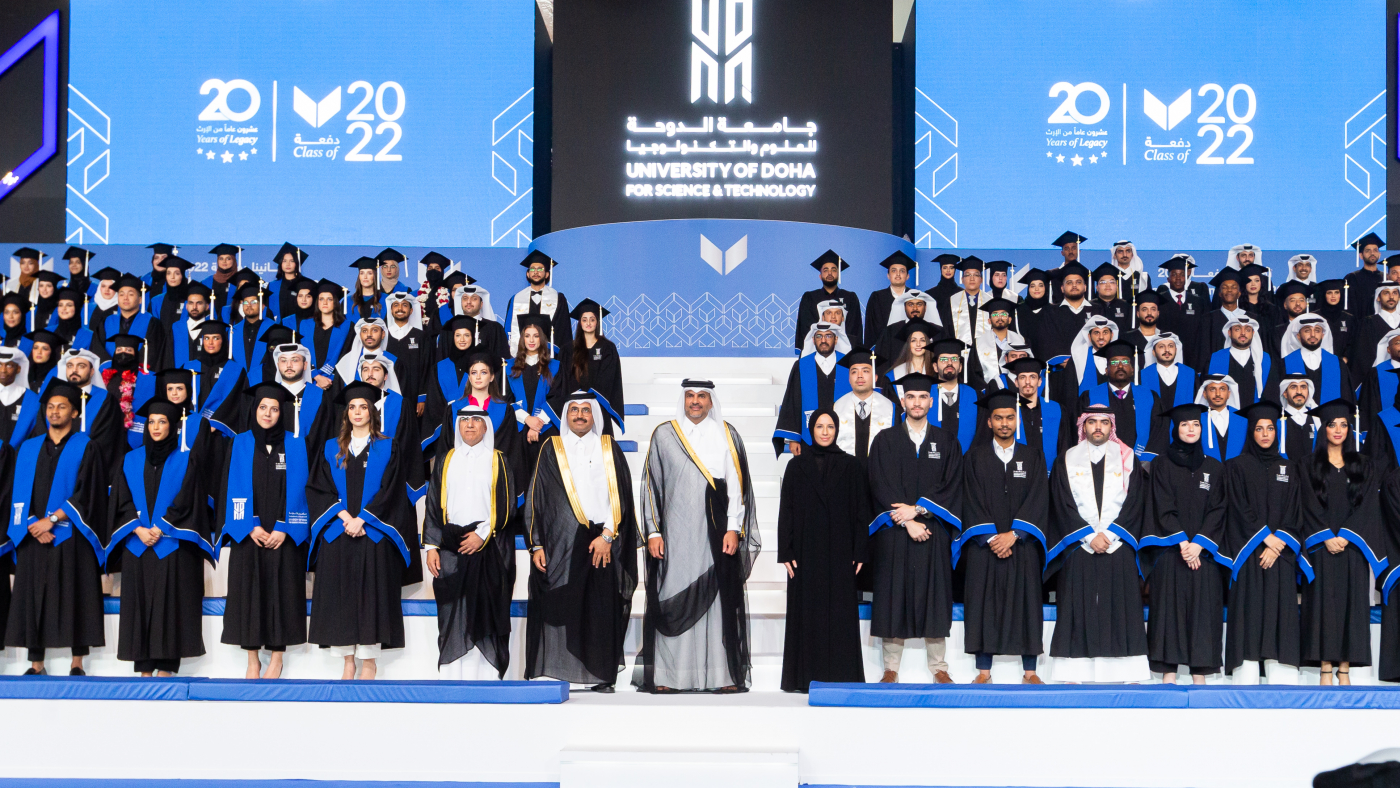 Under the patronage of His Excellency Sheikh Khalid bin Khalifa bin Abdulaziz Al Thani, Prime Minister and Minister of Interior UDST held a one-of-a-kind graduation ceremony for 477 students. The ceremony took place in the presence of His Excellency the Prime Minister and Minister of Interior; with the attendance of Excellencies Ministers of State and H.E. the Minister of State for Energy Affairs Saad bin Sherida al-Kaabi as a guest speaker; UDST Board of Trustees' Chairman H.E. Dr. Mohammed Bin Saleh Al-Sada and the board members; Dr. Salem Al-Naemi, UDST's President, the University's Faculty and graduates' families.
UDST's first graduation ceremony and the 18th graduation batch for this Academic Institution witnessed the first cohort of Applied Master's Degree holders in Diabetes Care and Patient Education. Students graduated from over 62 programs, which are each tailored to the needs of Qatar's economy. The number of graduates in each discipline is: 115 from Business Management, 39 from Computing and Information Technology, 245 from Engineering Technology, 78 from Health Sciences.
During the ceremony, the audience was astonished by a documentary retracing a 20-year legacy of this Academic Institution and the transformation that led to the establishment of the First Applied University in Qatar.
The ceremony started with a congratulatory message from Dr. Salem Al-Naemi, UDST's President. He said: "We take pride in this special day, where we witness a moment long-awaited by our students. We had the honor of being part of the official establishment of UDST by an Emiri Decision No13 of 2022 issued by His Highness the Amir Sheikh Tamim bin Hamad Al Thani, may God protect him. This decision brought with it a new journey full of excitement, dedication and commitment to offer the best and strengthen the position that has been set for us as a First Applied University in our beloved country Qatar. UDST is a student-oriented university, we believe in the ability of our students and we put 20 years of technical and vocational education and training experience in Qatar at their service. We work on developing their skills and knowledge, and we encourage them to achieve and perform at their best. Our aim is to help them self-develop and seek innovation that serves society and achieves sustainability under the Qatar National Vision 2030. The University has developed and actioned strategies in partnership with leading private and public entities which resulted in the reveal of multiple unique projects and the launch of new programs that respond to the requirements of the labor market. UDST offers 62 programs, 8 of which are unique and no other university in Qatar offers such programs. The latter are Business Administration in Banking and Financial Technology, Data and Cyber Security, Respiratory Therapy, Medical Radiography, Digital Communication and Media Production, Engineering - Applied Electrical Power and Renewable Energy, Construction Engineering, Engineering - Applied Automation and System Control Engineering."
In his speech to the graduates, His Excellency Mr. Saad Sherida Al-Kaabi, the Minister of State for Energy Affairs, pointed out the distinction of University of Doha for Science and Technology, which he said "was not a coincidence, but the result of continued cooperation with various sectors in the country to build programs that are capable of preparing national talents and capabilities to meet the requirements of the job market, including that of the energy sector."
His Excellency Minister Al-Kaabi addressed the graduates, saying: "Today we celebrate your arrival at the first stage of success on a long road- a pivotal station that will change your path into the working life. Each of you sets out with a certificate, a qualification and practical experience that meets an immediate need for the country's economy. Next, you will join one of our Qatari institutions, and you will work with experts and specialists in all fields, So, learn from them and build successful and solid relationships based on mutual trust and respect. Be proud of the qualitative additions you will bring and keep looking ahead to the next step, for the future is ahead of you and tomorrow is yours."
Drawing from his own educational and professional experience, His Excellency Minister Saad Sherida Al-Kaabi concluded his speech with some advice to the graduates, saying: "Let knowledge lead you, and constantly search for it, as it will drive your success, wisdom and innovation. Learn from your mistakes as well as from your successes. Be humble and appreciate the achievements of others around you. Take care of your colleagues, support each other and cooperate with each other, and be the positive energy and role models for future generations. I congratulate you and your families on your graduation, and I congratulate the Qatar's institutions for your joining them, so that we can contribute together to the further economic prosperity of our beloved Qatar under the wise leadership of His Highness the Amir, Sheikh Tamim bin Hamad Al Thani."
The University has graduated more than 7000 students dedicated to serve Qatar locally and internationally. UDST hosts more than 5000 students across its 4 Colleges. They represent more than 70 nationalities reflecting a diversified community that shares the love of learning and works together for a better future. The audience witnessed the parchments presentation and applauded the class of 2022 dressed in their graduation regalia designed and crafted by a Qatari Fashion House.