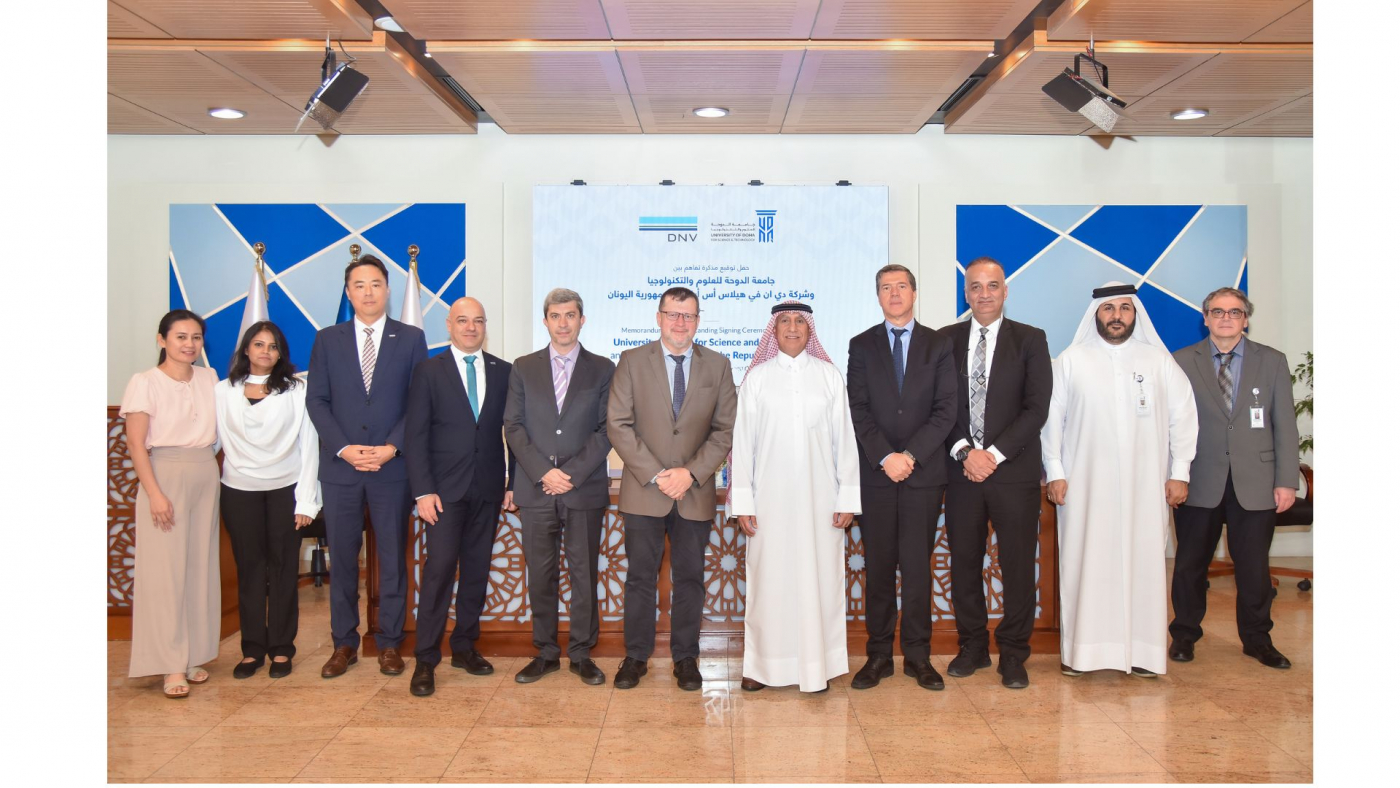 University of Doha for Science and Technology and DNV Hellas sign an MOU to enhance maritime education in Qatar
University of Doha for Science and Technology (UDST) and DNV Hellas S.A. entered a Memorandum of Understanding (MOU) to advance training, competence, and knowledge in the maritime sector.
DNV Hellas, via its Regional Maritime Academy, will work closely with UDST to transfer knowledge and expertise through curriculum and training courses, provide insights on industry challenges, and contribute to training courses and joint projects. On the other hand, UDST, the first national university in the State of Qatar specializing in applied, technical, and professional education in Qatar, will facilitate the integration of DNV's training courses into its marine engineering programs.
Dr. Salem Al-Naemi, President of University of Doha for Science and Technology said, "Our collaboration with DNV is a testament to UDST's commitment to excellence in maritime education. Partnering with a globally recognized entity like DNV brings an unrivalled depth of knowledge and expertise to our programs. We are especially excited about what our Marine Engineering students will achieve by harnessing the combined strengths of both institutions. We want to shape the next generation of maritime professionals who will be well-prepared to navigate the complexities of the industry. Together with DNV, we are taking significant strides towards that future."
"As the push towards decarbonization and digitalization transform the maritime landscape, it is essential we build the expertise and competence needed to tackle the challenges and opportunities these forces present," commented Mr. Ioannis Chiotopoulos, Senior Vice President and Regional Manager South East Europe, Middle East and Africa, DNV Maritime. "With this collaborative effort, we hope to help foster competence, proficiency, and knowledge in the shipping industry in the State of Qatar, in alignment with Qatar's Vision 2030. We are excited to work with the University of Doha for Science and Technology to address the industry's current and future challenges and support the development of the new generation of Qatar's maritime professionals."
The MoU provides the opportunity for students completing the Marine Engineering program at UDST to enhance their competence through DNV's Maritime Academy training courses to be incorporated into the syllabus. Additionally, DNV will have a role in UDST's Program Advisory Committee for Marine Engineering and will offer internships to students, providing them with real-world industry insights. Another highlight of the agreement is DNV's commitment to share its knowledge on present and upcoming challenges in the shipping industry and deliver keynote speeches at the University on prominent issues. Both institutions will also work together on organizing local and regional events, touching on important maritime topics like decarbonization, digitalisation, and cybersecurity. The signatories will also collaborate on joint research and projects of interest to the maritime industry.