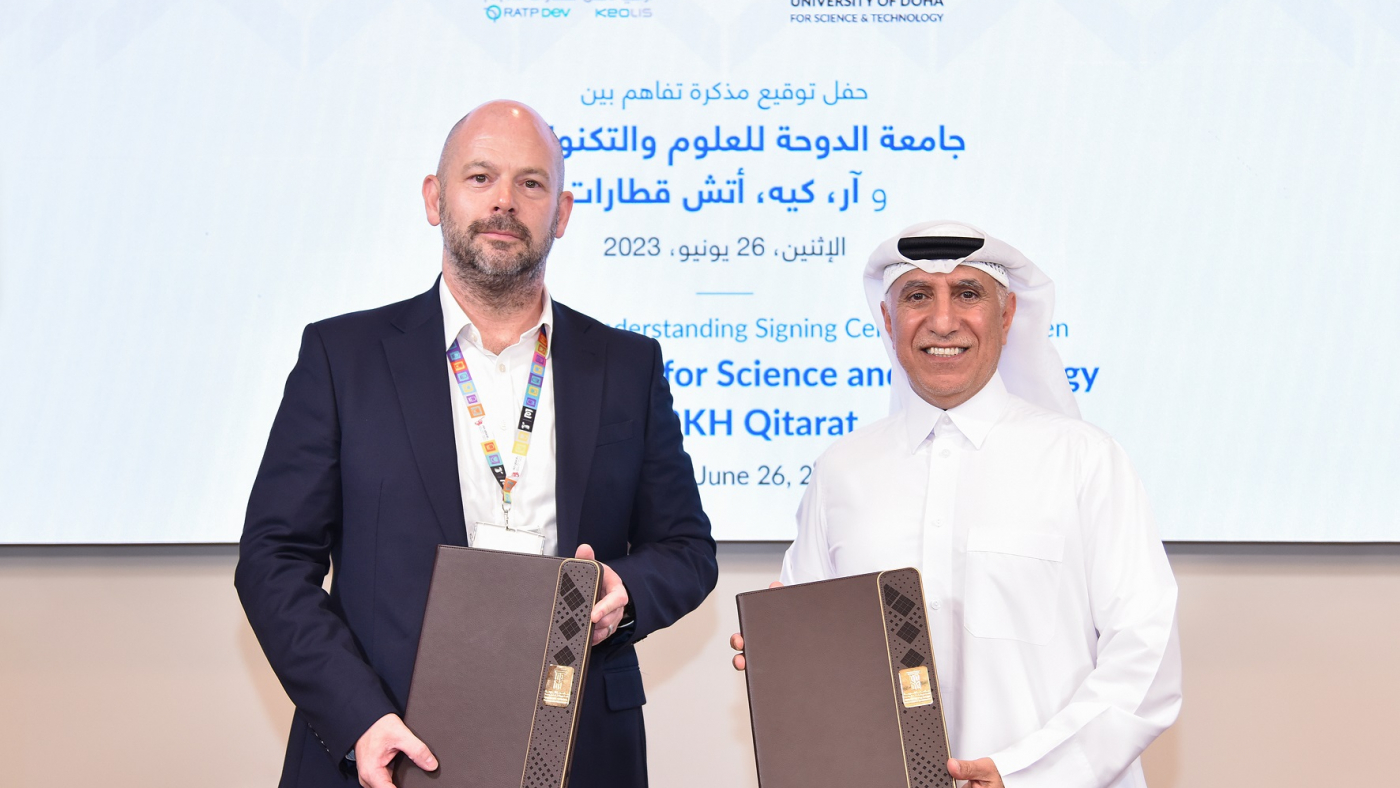 University of Doha for Science and Technology and RKH Qitarat sign a Memorandum of Understanding
University of Doha for Science and Technology (UDST) has signed of a Memorandum of Understanding (MoU) with RKH Qitarat, a service provider to Qatar Rail responsible for operating and maintaining Doha Metro and Lusail Tram networks. The agreement aims to enhance the professional development of both entities' cadres and to offer training opportunities for UDST students in addition to strengthening the partnership between the two institutions. Dr. Salem Al-Naemi, President of UDST, and Kevin Thomas, CEO and Managing Director, RKH Qitarat, signed the agreement on the University's campus in the presence of officials from both institutions.
Dr. Salem Al-Naemi, President of UDST said: " We are pleased to sign this MoU with RKH Qitarat. This partnership brings together deep industry knowledge, academic expertise, and a strong will to empower our communities. As the leading applied sciences university, our vision is to promote excellence in applied education and research contributing to innovation and sustainable development of the State of Qatar and the global community. This agreement comes in line with our strategy and aims to increase professional development opportunities for our students and cadres, in addition to creating research and development paths that will serve sustainability and innovation-driven initiatives."
The MoU serves as a platform supporting several planned projects between the two entities. These include work placements for UDST students, as well as industrial attachments for academic staff from UDST to identify potential applied research opportunities. RKH Qitarat will also take part in the UDST relevant Program Advisory Committee. Both parties will collaborate in continuing and professional education programs and consultancy services and join efforts in many projects related to sustainable mobility.
Kevin Thomas, CEO and Managing Director at RKH Qitarat, said, "We're fortunate to live in a time when science and technology are breaking down barriers in all that we do. To bring these opportunities to life, we must ensure skills and knowledge are developed in collaboration by our education systems and delivery organisations. A remarkable collaboration such as this, between UDST and RKH Qitarat, brings together a comprehensive understanding of the rail and transportation sector, and dedication to developing our communities. Under the leadership of Qatar Rail, we're committed to delivering Service Excellence Every Day within public transport.  Working with UDST we can support this commitment by nurturing and cultivating young talents here in Qatar, for the benefit of everyone."