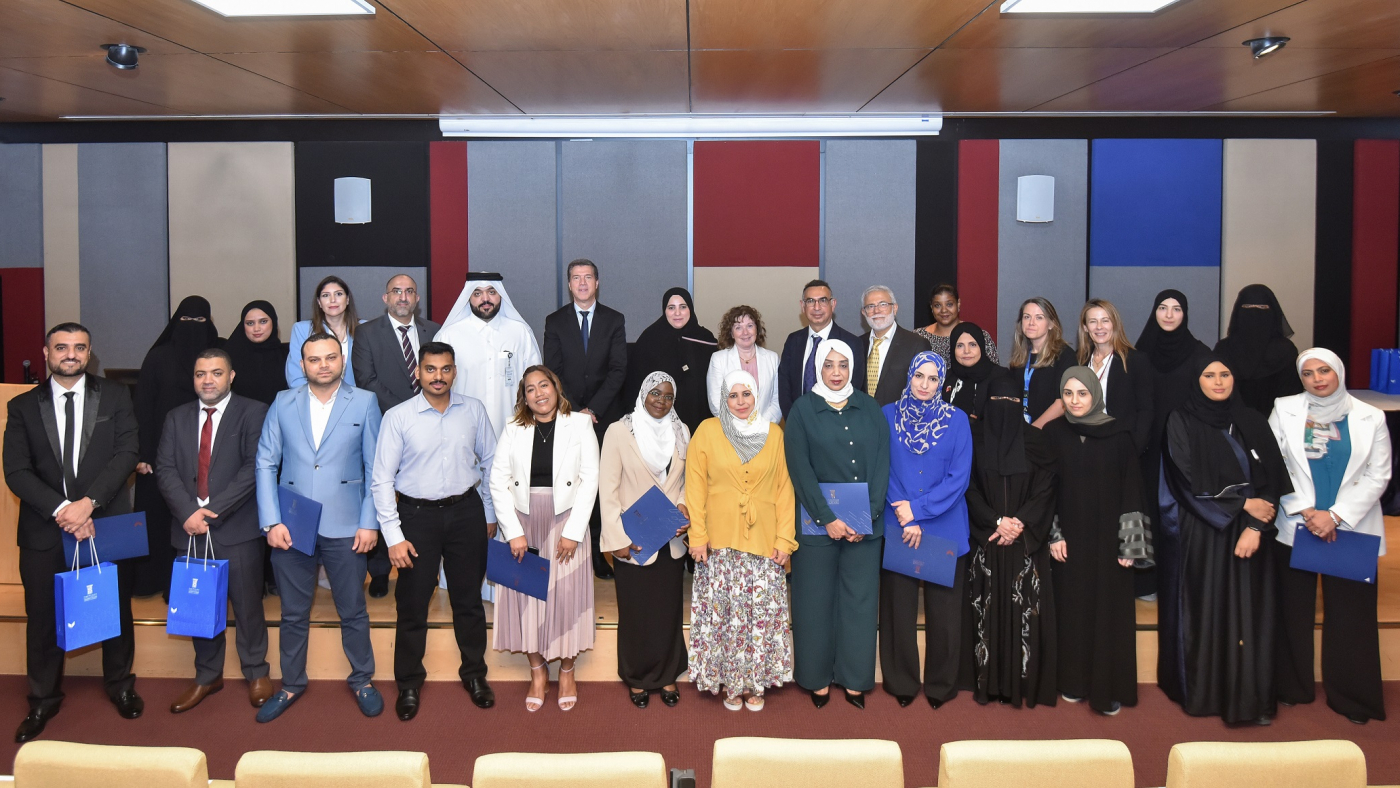 University of Doha for Science and Technology (UDST) held a certificate distribution ceremony for 20 professionals following the completion of a training on diabetes education and patient care. Present at the ceremony were Dr. Rachid Benlamri, Vice President, Academic Affairs at UDST, Dr. Saheim Khalaf Al-Temimi, Director of Continuing and Professional Education Directorate, Professor Abdul-Badi Abou Samra, Director of Qatar Metabolic Institute and Co-Chair of the National Diabetes Committee and Dr. Manal Musallam, Director of Diabetes Education at Hamad Medical Corporation's National Diabetes Center.
"The Fundamentals of Diabetes Education" (FDE) program marks a 7-year partnership between UDST and Hamad Medical Corporation. The tailored courses offered by UDST's instructors provide HMC employees with the necessary skills and knowledge required to specialize in the field of diabetes education and contribute to Qatar's National Diabetes Strategy 2016-2022. The program embodies four major units for a total of 132 hours. It offers two courses about understanding and managing diabetes, and the two others tackle diabetes in special populations and principles of diabetes education. 
Commenting on the event, Dr. Salem Al-Naemi, President of UDST said: "We wish to congratulate all graduates who will be leading the fight against diabetes, raise awareness about this disease and develop the patients' ability to engage and self-manage their chronic health condition. FDE is a major training program that we offer in partnership with HMC, and it has been tailored to answer a pressing need in the healthcare sector. Given the prevalence of diabetes in Qatar, UDST has recently launched a new Master of Science in Diabetic Care and Patient Education program with the aim of increasing the number of diabetes educators in the State. It is a great honor for the University to partner with HMC, we look forward to developing more initiatives that support the implementation of the National Diabetes Strategy."
Dr. Saheim Khalaf Al-Temimi said: "We are pleased to be the partner of choice for HMC.  All graduates today are equipped with the necessary tools to plan, deliver and evaluate patient education.  Diabetes educators play a vital role in supporting people living with diabetes to manage their condition and achieve optimal health outcomes. We wish them all the best and we look forward to new collaboration opportunities."
In his opening remarks, Prof. Abou-Samra congratulated the graduates of class 2021-2022 and highlighted the diabetes educators' important role in educating patients; and thus, contributing to a better experience for the individuals, families, and the community, living with diabetes.
Prof. Abou-Samra continued by saying that, aligned with Qatar National Diabetes Strategy. 2016-2022, "The Fundamentals of Diabetes Education" program marks, a 7- year partnership between the University of Doha for Science and Technology (UDST) and Qatar Metabolic Institute, Hamad Medical Corporation. This program has been developed as a response to the findings of National Diabetes Strategy that Qatar needs more educators, with advanced diabetes skills, to serve our diabetic patients. We value the collaborative nature and positive impact of the degree in improving the healthcare delivery for patients with diabetes in Qatar.
Dr. Manal Musallam said: "This initiative was an important step in actively responding to the diabetes health challenge in the State of Qatar by graduating competent and skilled diabetes educators who can provide extensive and comprehensive self-management education and support to people living with the condition. The program was recognized in the Stars of Excellence ceremony at HMC and received the "Rising Star" award in 2015."
This year, the significance of access to quality diabetes education for those living with diabetes is further highlighted, by the International Diabetes Federation (IDF) by promoting "Education to protect tomorrow" as the theme of the second year of the World Diabetes Day 2021-2023, Prof. Abou-Samra said.
During the program, UDST invites many speakers to share their experience with the participants and discuss many subjects such as neuropathy, cardiovascular diseases and diabetes, pediatric and adolescent diabetes and gestational diabetes. Courses also focus on developing communications skills required during emergencies and critical issues, in addition to applying fundamental principles of integrity; objectivity; ethical and professional competence.