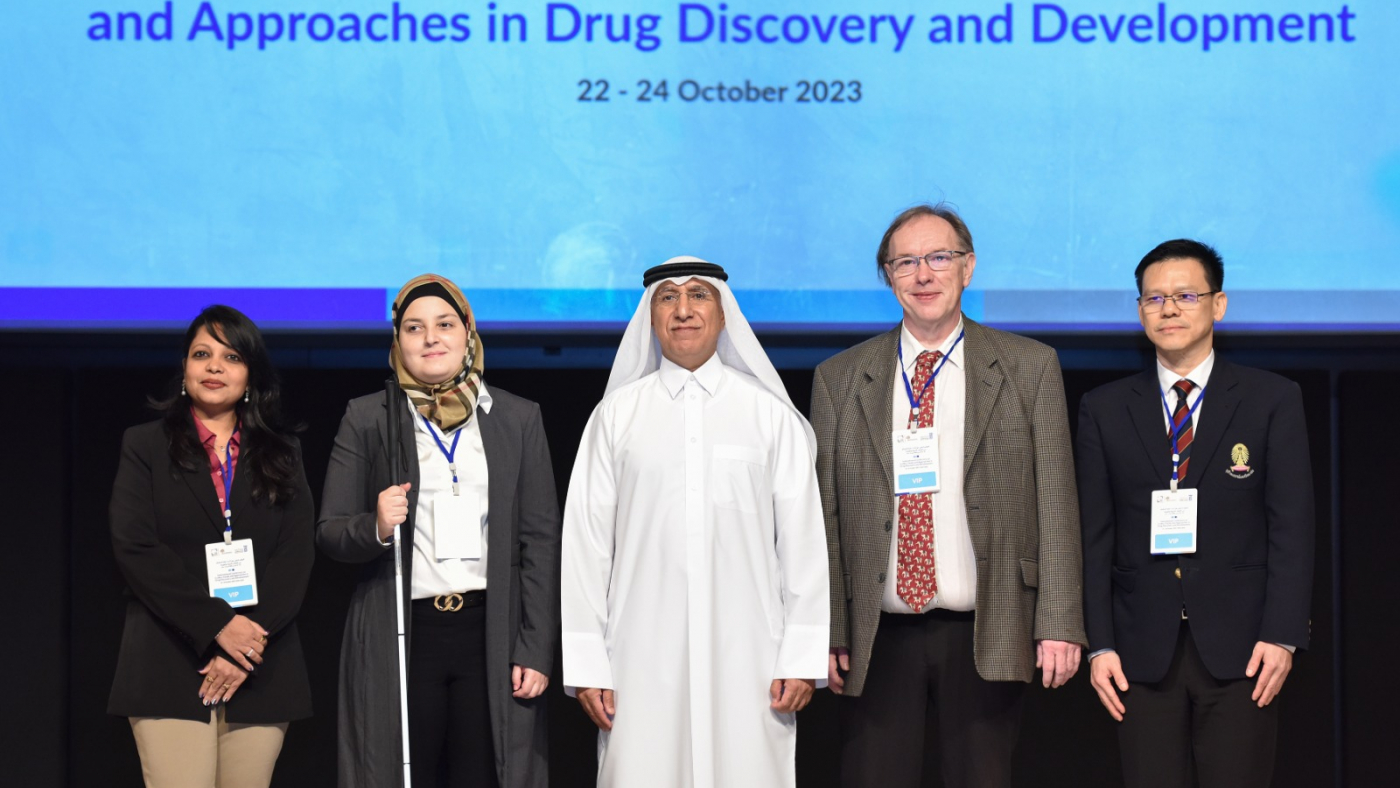 University of Doha for Science and Technology hosts a successful international conference on drug discovery and development
University of Doha for Science and Technology (UDST) recently hosted the International Conference on in silico Trends and Approaches in Drug Discovery and Development, sponsored by the Qatar National Research Fund, under the Qatar Research Development and Innovation Council. The three-day conference, which took place from the 22nd to the 24th of October, 2023, was an important forum for knowledge exchange among researchers, academics, students, and industry professionals. The event showcased contemporary ideas and tools for in-silico drug discovery and development.
Dr. Salem Al-Naemi, the President of UDST officially opened the conference in the presence of representatives from Qatar Research, Development, and Innovation (QRDI), Sidra Medicine, and with the participation of the World Health Organization (WHO) and many institutions. The conference featured multiple keynote speakers from different parts of the world, each an expert in pharmacology, pharmaceutical sciences, and bioinformatics, covering an array of current topics.
During his opening speech, Dr. Salem Al-Naemi said: "By bringing together diverse expertise in the field of in-silico pharmacology, this conference helps push the boundaries of drug discovery and development research within the context of education. The conference, being hosted at UDST, underscores our commitment to support, and be part of, pivotal scientific discussions and developments, and it also represents the University's integral role in fostering an environment for scientific innovation and dialogue."
"Sponsoring the International Conference on in silico Trends & Approaches in Drug Discovery and Development at UDST is not just an honour, it's a testament to our unwavering commitment to pushing the boundaries of in silico pharmacology and drug discovery & development research and education. This conference signifies a pivotal moment for Qatar, where we consolidate our position as leaders in these critical fields. We extend our heartfelt gratitude to all participants for being part of this groundbreaking event, where innovation, education, and inclusivity converge to craft a brighter, more promising future. Your presence exemplifies the collaborative spirit and dedication that fuels our collective pursuit of knowledge and progress." said Dr. Hisham M. Sabir, Executive Director of QNRF Program Office, Qatar Research, Development, and Innovation (QRDI) Council.
Dr. Rayana Bou Haka, WHO Representative in the State of Qatar said: "The promising contributions to the Global public of pharmacogenomics open new domains for working on scientific innovations while highlighting the importance of networking and knowledge sharing."
On the first day, a welcome reception was held for keynote speakers, hosted by Dr. Rachid Benlamri, the Vice President (VP) of Academic at UDST, followed by a tour of the University, leading to an engaging roundtable discussion on digital health research pillar at UDST, and concluding the day with flash oral talks by participants whose scientific abstracts were accepted. The second day was the conference highlight, featuring talks by invited keynote and plenary speakers, interleaved with poster presentations during the breaks. The talks included by Dr. Ian Haworth from the University of Southern California, USA, who provided an overview of in silico approaches to research; Dr. Mona Minkara from Northeastern University, USA, who presented insights from molecular dynamics studies to decipher enhanced antiviral activity; Dr Mohammad Asif Khan, Associate Dean at UDST's College of Computing and IT (CCIT) and also the President of the Asia Pacific Bioinformatics Network (APBioNET), who talked about human orthologous peptide sequences and their implications for drug design; Prof. Christopher W. Cunningham from Concordia University, USA, who shared a 10-year study on translating pharmaceutical science into practice; and Dr. Bhumika Patel from Nirma University in India, who discussed an important case study on PARP1 inhibitors; Dr. Pornchai Rojsitthisak from Chulalongkorn University in Thailand, who dissected computational approaches in drug discovery; and Dr. Puthen Veettil Jithesh from Hamad Bin Khalifa University (HBKU) in Qatar, who showcased in silico analyses for identification of potential SARS-CoV-2 inhibitors.
The conference witnessed more than 300 individual registrations and featured more than 50 accepted abstracts from different parts of the world, evaluated by the scientific program committee and judged by the distinguished international keynote speakers for the Best Postgraduate Student Presentation awards received by Noor Abdulla, University of Bahrain and Dana Nizar Mustafa Hamad Bin Khalifa University, Qatar and the Best Researcher Presentation Award presented to Shimaa Mohammed Sherif Khedr, Sidra Medicine. In a separate achievement, UDST honored one of its students, Raniah Farooq, from amongst undergraduate students at the College of Health Sciences with the Undergraduate in silico Pharmacology Research Excellence Award.
Attendees navigated complex topics within computational biology, exploring and debating the potentials and challenges of the recent trend, applying artificial intelligence and machine learning to drug discovery. The conference also offered a comprehensive look at the practical and academic implications of in-silico approaches in pharmacology education, providing participants with fresh perspectives and insights. The productive three-day conference provided a solid platform for sharing knowledge and establishing new collaborations, expected to fuel future innovations and studies, as well as research endeavors and partnerships in Qatar, ultimately contributing to the research and development activities of the global scientific community.