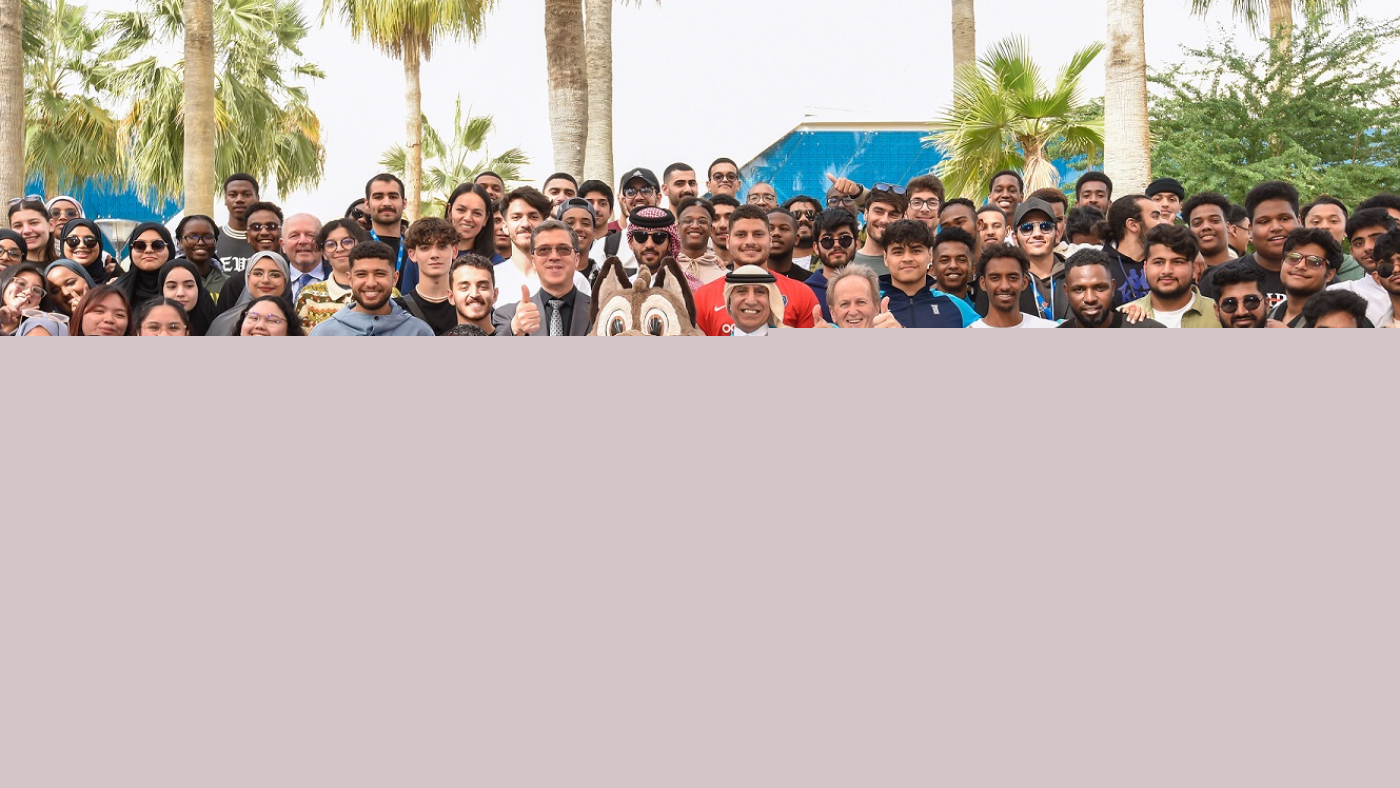 University of Doha for Science and Technology unveils their brand-new Mascot
University of Doha for Science and Technology (UDST) unveiled their brand-new University mascot and logo – an Arabian Wolf. The ceremony took place at the University's Courtyard and was attended by UDST President, Dr. Salem Al-Naemi, faculty, staff and students. At the lively event, attendees were able to interact with the new mascot, meet and network with others from the UDST community and understand more about the attributes the mascot represents.
"At UDST, we believe that our success is built upon the fortitude of our community. The Arabian Wolf is a splendid representation of the values that we strive to embody as a University: intelligence, loyalty and strength. These remarkable qualities make the animal an ideal symbol for UDST, through which members of our community can identify with one another. Wolves also work as a team, are deeply caring and devoted to their own pack – something that we actively encourage in the context of our University. We are committed to providing a supportive and inspiring environment for all students and staff, and our new mascot plays an important role in reflecting this." said Dr. Al-Naemi, UDST's President.
The process of choosing the mascot was initiated by the Marketing Directorate, Sport and Wellness and Student Engagement Department, a division of Student Affairs. Students voted on their preferred concepts via a survey across the University population. The chosen mascot, the Arabian Wolf, is a subspecies of the Gray Wolf, native to the Arabian Peninsula, and is well adapted to its desert environment. The unveiling of the new wolf mascot was a celebration of UDST's values and commitment to its community, celebrated by many engaging student activities at the University throughout the day. The Mascot logo was entirely created by UDST's own design team to reflect the colors and spirit of the University.
The new mascot will be used in all UDST branding and communications and is a symbol of the University's commitment to fostering an inclusive and diverse community. The mascot will feature on official university materials, such as the official website and merchandise, and will represent a distinct visual identity for UDST, uniting community members under a new identity, "The Wolves".