Mental health is as important as physical health. During the University years, it is very natural for students to
experience challenges as they work towards their personal and academic goals. These struggles include but are not limited to, adjusting to the new University environment, academic stress, lack of goals, issues at home, financial struggles,
loneliness, conflicts in relationships, etc.
Student Success and Counselling (SSC) provides free, supportive, and confidential counseling services to all registered
UDST students. These services help students to overcome the challenges that they may be facing in order to experience a more enriched University life. Counselors work collaboratively with students to:
Resolve their challenges by developing self-awareness and skills to meet their academic and life goals.
Explore options, identify goals and develop plans related to personal, family, financial, and relationship concerns.
Deal with crisis situations.
Create awareness through workshops and awareness campaigns, promoting overall student wellness that
extends beyond classrooms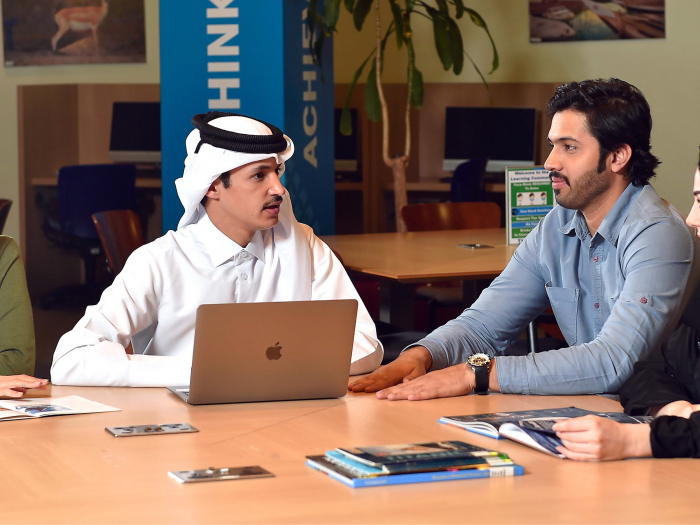 Accessibility Services (AESN)
Accessibility students make up a vital part of our student community. The diverse student community at UDST includes students with various, psychological, sensory, physical and learning disabilities.
SSC understands the strength and needs of all students and provide various supportive services including
Academic Accommodations like classroom accommodations and exam accommodations
Auxiliary Aids & Services such as note takers and assistive technology
Peer Support
Linkages to other related campus resources
Book an appointment with a Counselor
You can book an appointment through D2L.
Navigate to the "Student Counselling and Accessibility Services" course
Select "Book an Appointment"
Select a counsellor depending on your program and a convenient date and time.
Enter your details and confirm your booking.
You will receive a booking confirmation e-mail and message with details of the booking. 
For more information, you may also contact  counselling@udst.edu.qa