Bylaws, Procedures and Processes
Institutional Excellence (IE) provides support and quality assurance reporting on the development, implementation and effectiveness regarding Bylaws, Procedures and Processes in line with UDST regulations, frameworks and other benchmarks and reference points to enhance and support evidence-based decision making.
IE follows the standard quality assurance cycle as shown in the Figure below.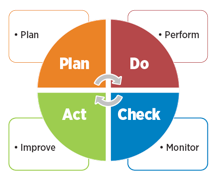 Source: PDCA Cycle - What is the Plan-Do-Check-Act Cycle? | ASQ
Bylaws and Procedures Repository
UDST Bylaws and Procedures support and promote UDST mission, ensure proper governance, define standards, foster institutional excellence, improve operational capability, and ensure institutional growth in a manner that is compliant with applicable Qatar National Vision 2030, laws and regulations, and international best practices.
IE serves as a central repository for all approved Bylaws, Procedures, and related documents. IE encourages all internal and external stakeholders to reach out for any request or information on Bylaws and Procedures through Policy@udst.edu.qa