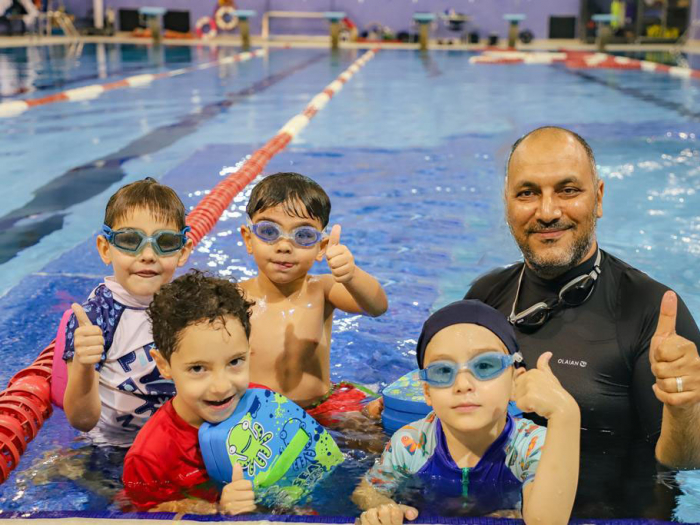 Learn to Swim Programs Targeting Children, UDST Students and Staff
Sport and Wellness offers a significant adult learn to swim program targeted at students, faculty and staff of the University. This initiative retains a personal touch tailoring each class to suit the students learning requirements and pace while teaching the fundamental swimming and water safety skills and aligning with the six progressive levels our Internationally accredited program.
Whether you are having lessons for the first time and would like to be safer around the many aquatic activities, looking to improve your strokes, learn new strokes or improve endurance levels Sport and Wellness have the classes for you!
Aquatics at UDST
Sport and Wellness operates two 25-meter swimming pools to serve the aquatics needs of students, faculty and staff of the University for free usage during the university normal operational hours, as well as the surrounding community through specialized programming. The Aquatics Center, home to the UDST Swimming and Diving Teams, is inclusive of two pools, each offering either male and female only access and are in Building 18 and 17 respectively. Each is equipped with heating and cooling systems for year-round pool temperature comfort. Aquatics offers comprehensive programming including swim lessons for all ages and abilities, ILS lifeguard training and swim assistant instructor training (for current students only), PADI Scuba and Skin-Diving.
UDST Diving Club
Sport and Wellness offers a variety of Diving courses including Pedi skin diving, discover Scuba diving, open water, advanced Open Water, EFR, Rescue Diver and Dive master classes. All students and staff regardless of prior experience are welcome to participate in such classes.