Our Personal Training
Personal training gives you a huge advantage in your exercise program. If you are looking for an individualized program to support your fitness goals and feel that you would benefit from the additional accountability, guidance and coaching, a personal trainer is a great resource. Whether you are a beginner, getting back into regular exercise after taking time off or have a lot of experience yet aren't seeing results with your current routine, there are many ways we can help and support you on your wellness journey.
Our trainers offer motivation, support, tips and training as you work to reach your fitness and weight loss goals. We work with you by providing in-person, as well as virtual training powered through our leading fitness app, and evaluate your progress with in-person wellness consultations and regular check-ins and communication. This allows you to have the most comprehensive program possible at a great value. Invest in improving your health and have peace of mind knowing that your wellbeing and success is our priority.
Packages Include
12 Personal Training sessions, in-person or virtual training through the Trainerize app
2 Wellness Consultations, in-person with body composition analysis (beginning and end of program)
Access to our Trainerize App, that offers virtual habit coaching, accountability and training opportunities that allows us to guide and coach you outside of session times!
Nutrition Support and coaching with information, resources and recipes
Packages must be used within a 5-week period
Please contact us at fitclub@udst.edu.qa for more details and pricing options
Our Wellness Consultation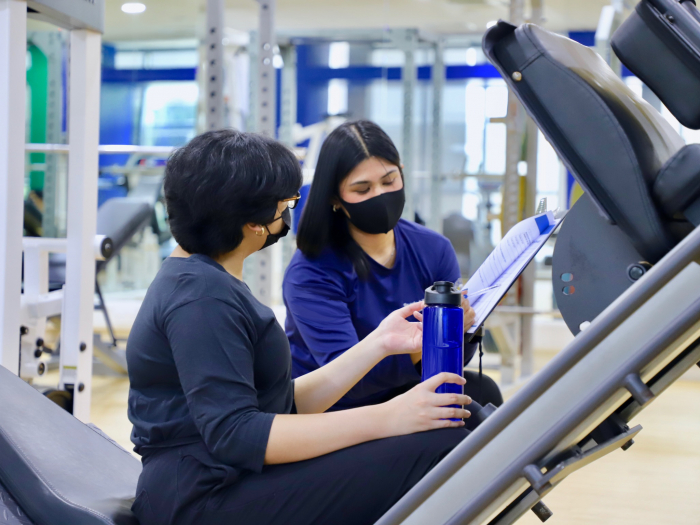 Book a 45-minute in-person consultation with one of our qualified Wellness Specialists to receive a BIODY Body Composition Analysis, in addition to a discussion of one of the optional wellness topics. Learn how to improve your body fat, muscle mass, bone density, hydration, calorie needs and how this information relates to overall health.
We will also discuss ways to increase activity levels, eat for better health and prioritize self-care in relation to your goals. For the most accurate results, we recommend fasting (no food or water) and no exercise for at least 4 hours before your consultation.
Consultation Price
QAR 175 for UDST Students and Employees
QAR 200 for UDST Alumni and Partner Members
QAR 250 for Public Members
If you choose to sign up for 1-on-1 personal training within 24 hours after your wellness consultation, the cost of the consultation will be deducted from the personal training package fee and will count as 1 of your 2 wellness consultations provided with the PT package.
Please contact us at fitclub@udst.edu.qa to start your wellness journey with us today!
Meet Our Trainers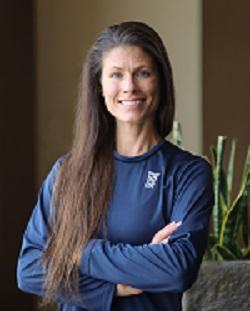 Kristen Rendall
Wellness Specialist
Kristen has worked at UDST since 2018, quickly becoming the face of the Sport and Wellness Department with her enthusiasm, down-to-earth personality and passion for lifestyle wellness. Her education in Kinesiology provides a vast understanding of human movement, bringing together biomechanics, exercise physiology, neurology, anatomy and psychology. This, coupled with over 10 years of personal training experience makes her one of the most sought after personal coach in Doha. She believes that 'experimenting' with nutrition and dietary habits, training progression and lifestyle management, is the best way to produce lifelong improvement.
Contact us at [email protected]  to set up a consultation with Kristen today!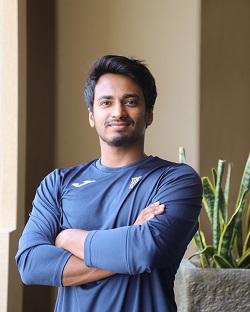 Mohammad Shoaib Prince
Wellness Specialist
Prince has been involved in exercise training for over 5 years and has worked with various fitness, health and wellness organizations. He is knowledgeable and highly passionate about helping clients reach their goals. He is an active researcher in exercise science and uses scientifically proven methods to maximize client outcomes. He is a certified Exercise Physiologist and accredited to utilize exercise as medicine from the American College of Sports Medicine. Prince has worked with a wide range of populations such as athletes, healthy populations, clinical populations, etc. He is also a diabetes educator and holds great interest in exercise for the diabetic population.
Contact us at [email protected]  to start your wellness journey with Prince today!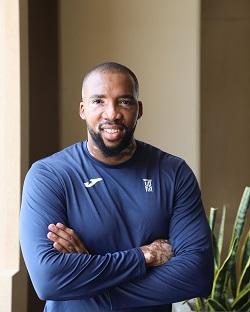 Sipho Mncwabe
Sport Specialist
Sipho has over 7 years of experience in fitness and health and has been training the male UDST community for the past three years. He is passionate about fitness, wellness and sport and enjoys sharing his knowledge with his clients to help them get started and achieve their wellness and fitness goals. He studied Sport Management: Sport Physical Recreational Studies and specializes in strength and conditioning, sport specific training, weight loss and toning, body building and boxing. Sipho is the perfect trainer for those looking to start their wellness journey or take their training to the next level.
Contact us at [email protected]  to start your wellness journey with Sipho today!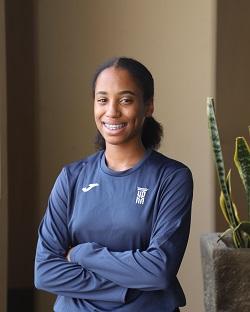 Shaza Ahmed
Student Wellness Assistant
Shaza has worked with the UDST Sport and Wellness team for 1.5 years as a Student Wellness Assistant. Her passion for movement started through football and is now a professional player with the Al-Gharafa Sports Club. Her fitness journey began as a member of FITClub, and this desire to continue to develop herself led her to finish her personal training and fitness instructor certificates with SIFA Fitness. Shaza has experience in high intensity intervals, strength and cardio workouts. Her interpersonal skills and continued motivation help her clients discover their body's full potential by modifying and adjusting the intensity of the program according to the individual's ability.
Shaza is currently accepting new clients. Contact us at [email protected]  to get started today!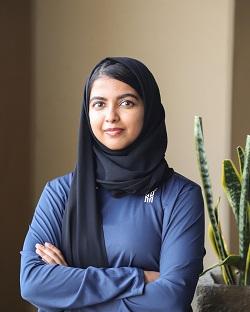 Wafa Nizar
Student Wellness Assistant
Wafa started her wellness journey with UDST's FITClub almost 3 years ago, before becoming an ISSA Certified Personal Trainer and joining the Sport and Wellness team. In addition to her love of one-to-one training, she specializes in group classes, and strives to make fitness fun and full of energy. Wafa sees every day as a new opportunity to be a better version of herself and spread that positive energy to her clients and everyone around her. Considering the different goals and needs of her clients, she offers workouts of varying levels of intensity where anyone, from beginners to advanced, can enjoy, be active and get one step closer to achieving their goals.
Wafa is currently accepting new clients. Contact us at [email protected]  to get started today!